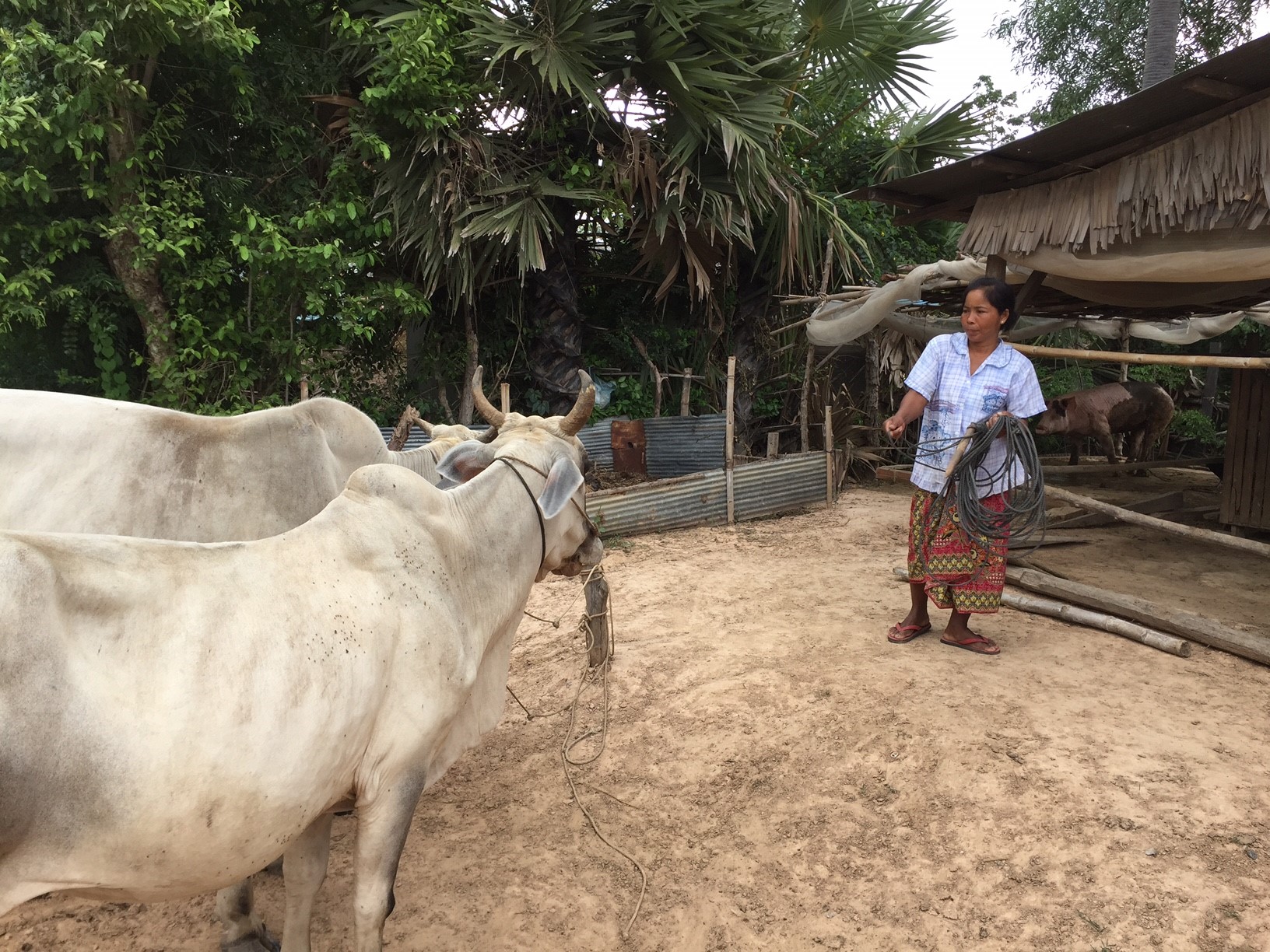 Doung Commune, Cambodia – Rolling out the artificial insemination programme for cattle in Cambodia would open up market opportunities and increase farmers' income, according to researchers and veterinary officials in the province where a pilot programme is under way with support from the IAEA and the Food and Agriculture Organization of the United Nations (FAO). Local farmers involved in the programme can fetch US$ 1000 for their cattle – double the rate for cattle bred through traditional methods.
Cows born as a result of artificial insemination using the semen of superior bull breeds are a lot more valuable because of their larger size and higher meat quality, said Chantry Chin, the District Veterinarian in Bati, 50 kilometers south of the capital Phnom Penh and the area at the heart of the pilot project. Local cattle had historically been bred as draft animals, to pull carts and ploughs, rather than for their meat. Following the mechanization of much of the country's agriculture in recent years, they are now raised for their meat, but their beef is not of high enough quality, Chin said. As a result, they fetch only low prices.
Two of the four cows of Phaly Chil, a small scale farmer in Doung, have been bred through artificial insemination, and the one that has already matured is over a third bigger than its mother. Chil expects each of the cows to fetch 4 million riels (US$ 1,000), double the price that regular, local breed cows are worth. "Several traders have stopped by already, but I am not selling until she is fully mature," Chil said of her larger artificially inseminated cow. The amount she expects to get for each of these superior animals equals the annual income of her husband, a day laborer in the nearby city.
Cambodia is among a growing number of developing countries making use of various nuclear and isotopic technologies to support genetic selection procedures and improve the gene pool of its livestock. Read more here on how such techniques contribute to the production of high quality semen.
Superior semen
Cows born through artificial insemination with the semen of superior breeds produce better calves that will grow into larger animals. Improving native cattle breeds through genetic selection in such a way that they produce higher quality meet but still retain their adaptability to the local environment and their tolerance to local diseases is crucial in sustainably increasing their productivity.
The research team at Cambodia's National Animal Health and Production Research Institute has received various forms of support under the IAEA technical cooperation programme. While they were able to artificially inseminate cows before, they did not have the capacity to collect and store bull semen and perform genetic selection, said Vonika Nou, Deputy Director. They learned the use of nuclear-related and other techniques through participation in IAEA training programmes and consultations with experts. They have also received equipment and materials to conduct the experiments and collect and store semen, while maintaining its quality. Seven staff members of the Institute have been trained in different countries in artificial insemination techniques and bull semen processing.
More work ahead
In order for the project to scale and make a difference to a higher number of farmers, however, more is required. The IAEA has committed to deliver equipment to produce liquid nitrogen, which is necessary to freeze semen for storage and transport, while the Ministry of Agriculture, Forestry and Fisheries is considering scaling up the breeding programme to 24 towns and provinces through setting up a cattle breeding unit in each town or province and getting local staff trained in performing insemination. "Based on the results of the IAEA project, the Ministry is committed to rolling out our programme," Nou said. "This will be an important step towards making our beef industry competitive."
Nou is also planning an outreach campaign to educate farmers about the benefits of artificial insemination. This is key to the success of the programme, said Chin, the district vet in Bati. Despite being in the vicinity of the breeding unit, only 25 farmers have requested artificial insemination of their cows, he said. "There is some reluctance against the use of such new technology among farmers."
The vast majority of the country's 3 million cattle is raised by small farmers. In order for the scheme to scale, synchronization of when cows are fertile in a particular village is required. "There is no point in travelling for hours to inseminate a single cow that happens to be in heat," Nou explained. As a next step, he is looking to develop the capability to use hormones that would regulate the heat cycle of cows.
"We have moved forward but a lot still needs to be done," he said.