The activities of the Plant Production and Protection Division of FAO aim to foster global food security by addressing food production sustainability as agricultural intensification progresses, crop diversification for nutrition, health and income generation, and the global food economy through supporting implementation of international treaties.
This page provides an overview of some selected current activities of FAO's Plant Production and Protection Division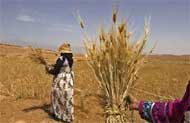 Soil fertility is declining rapidly in much of sub-Saharan Africa as farm land is mined of nutrients that are not replenished. At the African Union's Fertilizer Summit in Nigeria in 2006, governments agreed that increasing the use of mineral fertilizers is crucial for boosting agricultural production and reducing rural poverty and hunger in the region.
AGP is advising African governments on the policies and strategies needed to improve farmers' physical and financial access to fertilizers.
Studies conducted in Malawi and Uganda emphasize the need to stimulate demand, driven essentially by improvements in output markets that lead to more attractive production incentives and opportunities for profitable fertilizer use.
In Nigeria, current fertilizer applications meet less than 10 percent of biological demand and stagnating levels of agricultural production have led to rising food imports and declining levels of national food self sufficiency. An in-depth study – taking macro-economic, natural resource and farm level realities into account – estimated that fertilizer use is likely to double by 2030 and suggested issues to be taken into account when designing a fertilizer strategy to enable resource poor farmers realize this level of demand. Major factors identified were farmer knowledge, fertilizer affordability, availability of credit, output and input markets, and targeting of areas with  greatest production potential and least production risk.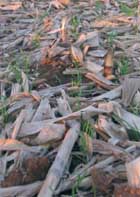 AGP is a global reference point on Conservation Agriculture (CA), a farming system that promotes reduced or no-tillage land preparation, permanent soil cover to protect soil and suppress weeds, and crop rotations to disrupt pest and disease cycles. Practised on an estimated 100 million ha of farmland worldwide, CA allows intensification of crop production while optimizing the use of farm labour and reducing land degradation.
Since 1998, FAO has advanced CA through four regional workshops for policy makers in southern Africa and Central and South Asia, three global conferences, and a regional CA programme for the Middle East and North Africa. It has also provided policy advice and developed training materials through 19 pilot projects in Eastern and Southern Africa, Asia and Latin America.
In Kazakhstan, FAO assistance facilitated a spectacular uptake of CA, now practised on some 2 million ha, while China and Korea DPR have given CA highest priority. In southern Africa, FAO's emergency programme has adopted CA as a central pillar of its agricultural rehabilitation work. FAO is recognized as a global resource particularly on the mechanization components of Conservation Agriculture and no-tillage seeding technologies. (http://www.fao.org/ag/ca/).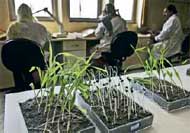 Crop improvement is vital to developing countries' efforts to ensure food security, raise farmer income and meet the looming challenges of climate change. Yet a recent AGP assessment of national plant breeding and biotechnology programmes in 65 countries found a critical lack of investment in human and physical resources and limited access to knowledge and funding.
In response, AGP recently launched a Global Partnership Initiative for Plant Breeding Capacity Building (GIPB). The initiative aims to enhance countries' plant breeding programmes by supporting policy development, education and training, facilitating access to new knowledge and technologies, and building bridges between public and private sectors. It will support implementation of the International Treaty on Plant Genetic Resources for Food and
Agriculture – and complement the conservation work of the Global Crop Diversity Trust – by providing a platform for sharing the germplasm needed for crop improvement and widening the genetic and adaptability base of improved cultivars.
The GIPB's database on the state of plant breeding in developing countries is a valuable tool for planners. The initiative has also begun work on identifying opportunities for postgraduate degree education in plant breeding, exploring mechanisms for direct consultation among plant breeders and biotechnologists, and developing decision tools for policymakers (http://km.fao.org/gipb/).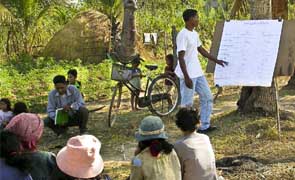 FAO's Farmer Field Schools are helping Uganda fight a major threat to one of its chief cash crops. Banana bacterial wilt, a devastating disease that crosses borders with ease, has been reported in 33 districts that grow the fruit.
AGP has provided training to 1 050 farmers in Integrated Pest Management. One element involves farmers observing insect behaviour and plant growth, and spotting the presence of 'beneficial' insects that eat pests. This helps reduce the need to use harmful pesticides that can damage the environment. The project runs for two years in the districts of Mbarara, Mukono, Kamuli, Kiboga and Lira.
AGP has trained 100 extension workers, coordinators from the Government National Agricultural Advisory Services and leader farmers, who will in turn instruct farmers in the future, so helping build capacity for Uganda to carry on the initiative.
Other skills learnt include selecting planting materials and appropriate soils, and field preparation. The extension workers will learn to cut away infected bananas, and to snap off male buds that attract bees, which are believed to transmit the disease.
AGP also carried out five regional technical and planning workshops, two refresher workshops for the 50 facilitators and 50 field days, with over 1 250 farmers, policymakers, representatives of NGOs and school pupils taking part.
The importance of this project is palpable, in a country where agriculture is central to the economy. Some 95 per cent of the population farms, and agriculture contributes over 40 per cent to the gross domestic product.
FAO has played a major part in helping countries restart agricultural production which has stalled in the wake of conflict and political instability.
High-quality seed is one of the most critical inputs for sustainable agricultural production. But in Afghanistan, years of civil war had drained the state of its best staff had seen looters strip state seed laboratories of equipment and records. The public sector stopped introducing improved crop varieties, especially the staple wheat but also rice, maize and vegetables.
A two-phased project funded by the EU has seen the introduction of genetic material, staff, training and the refurbishment of laboratories. Under an innovative approach, individuals are encouraged to invest money in setting up small businesses that grow and sell seed. After two years the fledgling enterprises receive no subsidies.
In 2006, the enterprises produced 4 000 tonnes of seed, the majority of it high-yielding, disease-tolerant wheat seed. Two years earlier, the private seed sector was virtually nonexistent in Afghanistan.
FAO has provided materials, technical advice and training, and works alongside Government staff to help introduce new policies to develop the seed industry.
Phase 2 of the project, running from 2007-11, seeks to build a national industry with a seed policy, seed law and regulatory bodies. A draft seed law has gone before cabinet and a headquarters for the National Seed Secretariat is being built in Kabul.
Meanwhile FAO is working on a US$5.4 million project to revitalize the seed industry in Iraq, which has been severely damaged by war and ongoing instability.
Staff are working with the Ministry of Agriculture to help replace equipment in research and seed production centres and to repair or replace damaged buildings.
FAO is also helping develop a national seed policy and a new seed law, which could in turn contribute to gradually increasing the role of the private sector in seed production.
AGP has come to the aid of 55 000 families in Sri Lanka, who have similarly suffered the impact of conflict and unrest.
A US$1.4 million project, funded by the Government of Japan, responded to the immediate needs of small-scale farm families and also supported long-term rehabilitation of certified quality rice seed production.
AGP has also assisted countries in the wake of natural disasters. When the devastating hurricane season hits countries across Latin America and the Caribbean for example, AGP helps provide emergency supplies including seeds, fertilizers and tools.
The aim is for countries such as Dominican Republic, Jamaica and Haiti to reduce the impact of floods and mudslides through the swift resumption of agricultural production.
Between 2005-06, AGP implemented 83 such projects in 31 countries.
AGP is helping build countries' capacity to cope with various locust species such as the Desert Locust, Migratory Locust, Italian and Moroccan Locust that pose a major threat to agricultural production in many parts of the world.
These insects, particularly the Desert Locust, are highly mobile and move in large swarms across great distances, and can eat their own body weight each day in the form of crops and green vegetation. A very small part of an average swarm eats the same amount of food in one day as about 2 500 people.
The transboundary nature of the threat requires a common regional strategy of close cooperation and information-sharing between the affected countries in order to effectively keep this dangerous pest at bay and to prevent major crop losses.
FAO Locust Group expertsvisited various locust affected countries in the Near East, East Africa, Central Asia and South East Asia during 2007 and the first quarter of 2008 namely: namely: Armenia, Afghanistan, Azerbaijan, East  Timor, Eritrea, Ethiopia, Georgia, Indonesia, Kazakhstan, Kenya, Kyrgyzstan, Sudan, Tajikistan, Turkmenistan, Uzbekistan, The Russian Federation and Yemen, to support in their fight against the locust threat.
A recent example of AGP moving swiftly to provide emergency support in the face of huge infestations of the Desert Locust was in Yemen, Sudan, Eritrea and Ethiopia in 2007, when the countries faced the worst Desert Locust outbreaks for decades.
Most of the population in these countries is living below the poverty line, working in marginal and small-scale agricultural, livestock and honey production and is particularly vulnerable to the locust threat.
AGP secured US$ 2.4 million from the UN's Central Emergency Response Fund and US$ 1.9 million from Japan to provide rapid assistance and support interventions in remote areas, stemming the outbreaks before they could damage agricultural production. AGP also helped to secure considerable support to Yemen and Eritrea from Saudi Arabia.
Saudi Arabia supported 40 vehicles, 10,000 litres of pesticides, 50 Knapsack sprayers of the FAO transboundary pest programme in action. Assistance to Eritrea inclided vehicles and vehicle mounted sprayers (total value around US$ 1.7 million). AGP has also helped incorporate the use of more environmentally friendly pesticides 'such as Green Muscle (TM) (metarhizium anisopliae var. acrcidum).
Another example was Timor-Leste where AGP provided technical support for largescale biopesticide spraying operations against the Migratory Locust, following a large upsurge in swarms.
The EMPRES Desert Locust programme in Northwest Africa continues to gain momentum. In Mauritania and Mali autonomous Locust Control Centres have been established and provided with substantial national budgets, which is a significant step towards being prepared at any moment to react rapidly to the onset of Desert Locust outbreaks. Also in Niger and Chad concrete steps have been undertaken along similar lines.
Currently it is planned to establish a three to five-year regional multi-donor project in Central Asia, focusing on information exchange among countries, common strategy for locust management early-warning systems, capacity-building, introduction or development of environmentally friendly control techniques such as biopesticides, joint activities such as surveys, development of new technologies such as remote sensing, and improved pesticide management and information awareness.